Wat zijn Boemboes?
Boemboes (Ook bumbu genoemd) zijn fijngewreven kruidenmengsels die worden gebruikt in de Indonesische keuken. Traditioneel worden de ingrediënten in een vijzel fijngewreven. Door toevoeging van (plantaardige olie) ontstaat een boemboe-pasta. Een boemboe is een mengsel van specerijen en kruiden en (vaak) ook ui en knoflook. Boemboes bestaan daarnaast uit zaden, vruchten, wortels, knollen, bloemknoppen, bladeren en schors. Traditioneel worden twee soorten boemboes onderscheiden, enkelvoudige en samengestelde, waarvan de laatste worden verkregen door afzonderlijke kruiden zoals karwij en gember door elkaar te mengen. Onder een boemboe wordt meestal een samengestelde boemboe verstaan.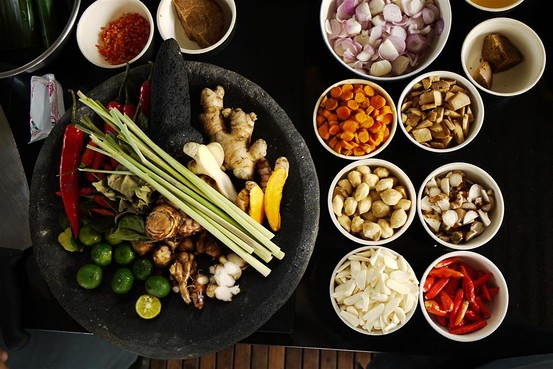 De reden dat kant en klare boemboe's verkrijgbaar zijn is omdat simpel, makkelijk mee te koken en het goedkoper is dan elk ingrediënt los aan te moeten schaffen. Om deze reden wordt boemboe in Europa meestal in de vorm van pasta verkocht. Zulke kant-en-klare boemboes zijn op onze website verkrijgbaar. Het pasta zit in een luchtdicht plastic zakje en hoeft alleen nog maar door het gerecht (rijst of bami) te worden geroerd.
Op onze website verkopen wij meerdere boemboe soorten en merken.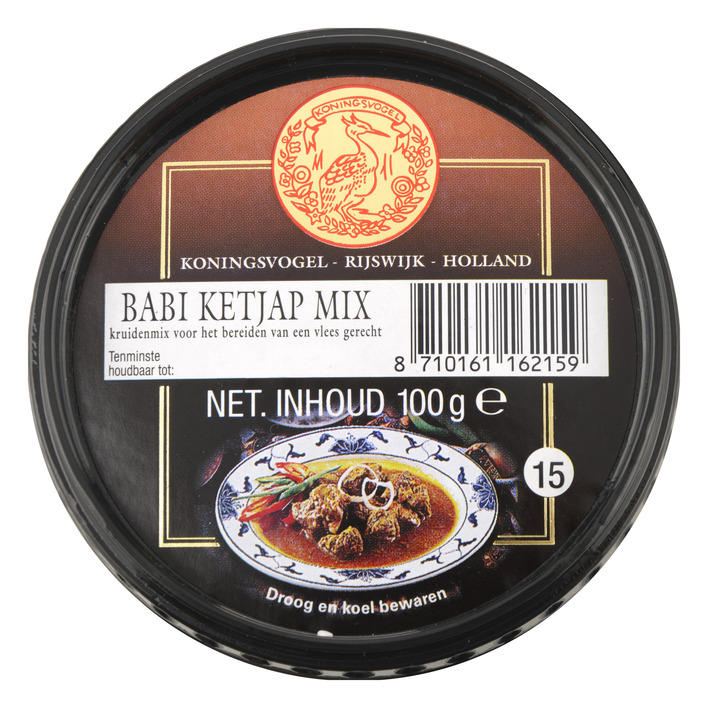 Koningsvogel vanaf €0,99,-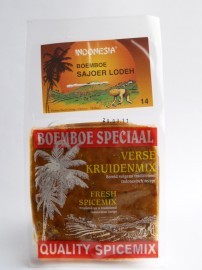 Indonesia vanaf €0,99,-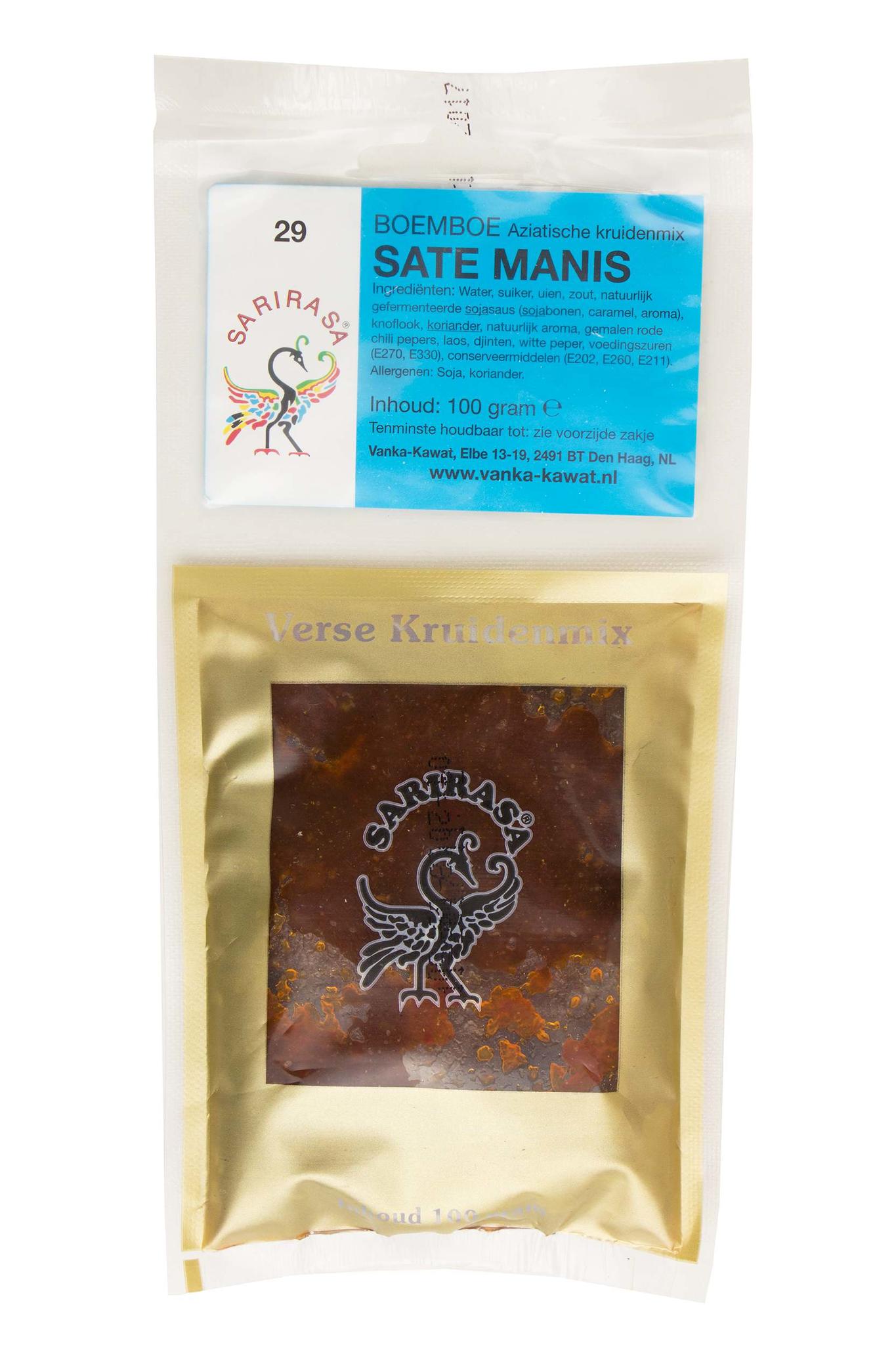 Sarirasa vanaf €0,95,-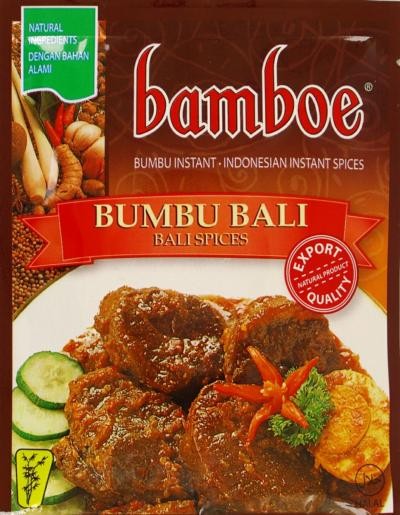 Bamboe vanaf €0,70,-
Dua Kuali vanaf €0,65,-
Als u op 1 van deze merken klikt komt u op een nieuwe pagina met daar alle soorten boemboe's van dat merk.
Persoonlijk vind ik deze boemboe gerechten het lekkerst: Boemboe rendang, boemboe nasi goreng en boemboe Rawon. Je hebt natuurlijk veel meer gerechten maar deze vindt ik het lekkerst. Ik zal er een beschrijving bij zetten en recepten bij vermelden!
Boemboe rendang,
Is een stoofgerecht met een volle, rijke smaak. Dit gerecht is zo lekker, dat je alsmaar meer wilt. Tijdens het schrijven van dit bericht krijg ik weer trek en verlang ik weer naar rendang. In Indonesië verkrijgbaar bij iedere warung. In Nederland verkrijgbaar in iedere supermarkt en bij ieder Chinees-Indisch restaurant. Er zijn duizenden recepten te vinden voor een rendang. Maar wat mij betreft gaat er geen enkele rendang boven de mijne. Een beetje geleerd tijdens kookcursussen in Indonesië, maar vooral geleerd door het gerecht daar vaak te proeven en vervolgens zelf te proberen. Rendang (je spreekt de 'e' nauwelijks uit) maak ik met rundvlees en wordt dan ook 'rendang daging' genoemd. Rendang kan ook met kip, lever, eend, geit of groenten (bijvoorbeeld cassave) gegeten worden. Een lekkere rendang zit 'm in de boemboe en de kwaliteit van het vlees. Tip: maak veel boemboe (de currypasta) aangezien je dat prima in porties kunt invriezen.
En een heel en goed recept vond ik van iemand van bron: www.puureten.nl
Link naar het recept https://www.puureten.net/recepten/zelf-echte-indonesische-rendang-maken/
Boemboe Sajoer lodeh
Soep, hoofd- of bijgerecht uit de Indonesische keuken
In de Indonesische keuken kun je dit wel een basisgerecht noemen. Groenten in saus, als onderdeel van een rijsttafel, als vegetarischhoofdgerecht, of in kleine porties als bijgerecht bij een Indonesisch vleesgerecht. De smaak is nóg lekkerder als je de sajoer een dag later opwarmt. Als je minder groenten neemt, kun je een kleinere hoeveelheid maken. Je kunt ook restjes invriezen.


Een goed recept vond ik van bron: http://www.coquinaria.nl/recepten/12.1recept.html
Rawon
Ik kan maar geen genoeg van rawon (Rundvleessoep) krijgen ook vrij simpel te koken. Hieronder hoe je het simpel bereid. Je kan er altijd je eigen twist aan geven!
Suggestie: 500 gram rundvlees
Bereiding: Boemboe Rawon is een kruidenmengsel voor een smakelijke zwarte rundvleessoep.
Trek van het vlees ca. 1 liter bouillon. Haal het vlees er uit en snijd het in mooie blokjes en doe het dan samen met de Indonesia Boemboe Rawon weer in de bouillon. Ongeveer 15 minuten laten door koken en niet vergeten om af en toe even te roeren.
Eventueel kun je wat zout toevoegen.